Pterostilbene is a natural compound first isolated from blueberries. It is a phytoalexin similar in structure to resveratrol, but with a much longer half-life in the body. Pterostilbene has been shown to have cholesterol and blood glucose lowering abilities and an anti-inflammatory function. It can also protect against oxidative stress and slow or reverse age-related declines in cognitive function.
Pterostilbene can improve cognitive function
During the aging process, gradual impairment of memory and cognitive function occurs in most organisms. Accumulation of damage due to oxidative stress is thought to be the major cause of this process. Diets rich in natural anti-oxidants can slow down or even reverse this process. In the laboratory, blueberry extracts rich in pterostilbene have been shown to be highly effective in reversing age-related declines in memory, cognitive function, and motor neuron function in rats (1). In a mouse model of Alzheimer's disease, a diet rich in blueberry extracts was able to prevent the onset of cognitive impairment as the mice aged (2). Further studies in rats and mice found that blueberry-supplemented animals had higher levels of hippocampal neuroplasticity, neurogenesis, and extracellular kinase receptor activation (3). Damage to the hippocampus is strongly associated with declines in memory associated with Alzheimer's disease.
Pterostilbene is the active ingredient in blueberry extracts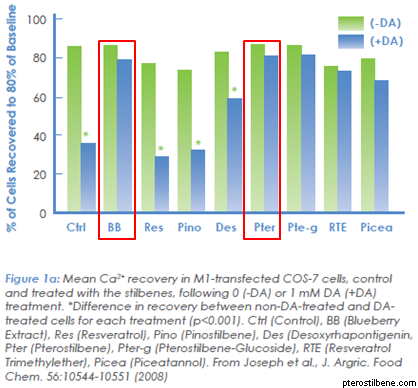 In order to identify the neuroprotective agent in blueberry extract, a laboratory cell culture experiment was performed. Human cells grown in culture had a type of muscarinic receptor that is known to be particularly susceptible to oxidative stress introduced. After introduction of this receptor, when the cells were exposed to oxidative stress by first depolarizing them with oxotremorine and then incubating them with dopamine, their calcium levels dropped. Recovery from the oxidative stress could easily be measured via an intracellular calcium level assay. When the cells were incubated with blueberry extract before dopamine treatment, the cells were able to return to almost normal calcium levels, indicating a strong protective effect against oxidative stress. Then, a number of different purified stilbenoid compounds were used instead of the blueberry extract (4). Resveratrol was unable to reproduce the blueberry extract effect, but purified pterostilbene worked as well as the blueberry extract in protecting the cells [see figure 1a].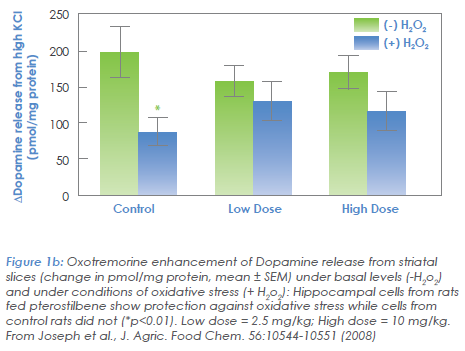 The researchers then went on to feed pterostilbene to aged rats for 8 weeks (4). The brains of the rats were removed and exposed in vitro to oxidative stress (by exposure to hydrogen peroxide). When the striatal cells of the brain are exposed to oxidative stress, it is well-known that they release large amounts of dopamine. Alterations in dopamine release during aging are associated with defects in memory and motor neuron function. The brains of the pterostilbene-fed rats released significantly less dopamine in response to oxidative stress than did control rats [see Figure 1b].
Pterostilbene improves memory and learning ability
The researchers then went on to feed purified pterostilbene to aged rats and tested their memory (4). A widely-accepted test of the rat's memory is the Morris Water Maze, where rats have to remember the location of a platform hidden under water. Rats fed high doses of pterostilbene showed significantly improved performance on the Morris Water Maze in comparison to control rats [see Figure 2a and 2b].

After the experiments, the brains of the rats were removed and the amount of pterostilbene located within the hippocampus was measured. There was a strong correlation between the amount of pterostilbene in the brain and the rat's performance on the Morris Water Maze test [see Figure 3a and 3b].

Pterostilbene has direct anti-oxidant activity
One mechanism whereby pterostilbene improves cognitive function is through its ability to act directly as an anti-oxidant. In in vitro assays, pterostilbene is a very effective scavenger of free radicals. In these assays, a molecule called Trolox is used as the reference anti-oxidant agent. Trolox can scavenge two free radicals per molecule. Pterostilbene is more effective than Trolox, able to scavenge at least 3 free radicals per molecule (5). Therefore, during oxidative stress in the brain, pterostilbene can directly remove free radicals and reduce damage to neurons.
Pterostilbene affects the expression of multiple genes
In addition to its direct anti-oxidant activity, pterostilbene protects neurons by altering the expression of more than 1000 genes. Researchers exposed yeast to pterostilbene and then analyzed the changes in their gene expression patterns with a genomic profiling assay. They found that 1007 genes were up-regulated and 182 were down-regulated as a consequence of exposure to pterostilbene (6). Many of the up-regulated genes were found to be involved in natural defenses against oxidative stress, indicating that pterostilbene induces higher levels of natural protection against oxidative stress in addition to acting as a free radical scavenger. In addition, some of the up-regulated genes are involved in the function of mitochondria. Mitochondria are organelles inside cells that are responsible for providing energy to the cell. Malfunction of mitochondria has been shown to be linked to both aging and Alzheimer's disease. Therefore, part of pterostilbene's effect on cognitive function may be mediated through stabilization of mitochondrial function.
In summary, pterostilbene improves memory and cognitive function through several different mechanisms. It accumulates in the brain and acts as a free radical scavenger to protect the neurons against oxidative damage. It also alters the gene expression patterns of cells, naturally up-regulating their ability to protect against oxidative stress. In addition, it stabilizes and protects mitochondrial function. Intriguingly, in addition to protecting against age-related cognitive decline, it may also be able to improve cognitive function in younger individuals. Studies in both children and young rats report that blueberry extracts are able to improve memory (7, 8).
References:
(1) J Neurosci. 1999 Sep 15;19(18):8114-21.
(2) Nutr Neurosci. 2003 Jun;6(3):153-62.
(3) Nutr Neurosci. 2004 Oct-Dec;7(5-6):309-16.
(4) J Agric Food Chem. 2008 Nov 26;56(22):10544-51. doi: 10.1021/jf802279h.
(5) J Agric Food Chem. 2002 Jun 5;50(12):3453-7.
(6) BMC Med Genomics. 2008 Mar 20;1:7. doi: 10.1186/1755-8794-1-7.
(7) Nutrition. 2015 Mar;31(3):531-4. doi: 10.1016/j.nut.2014.09.013. Epub 2014 Oct 18.
(8) Psychopharmacology (Berl). 2012 Oct;223(3):319-30. doi: 10.1007/s00213-012-2719-8. Epub 2012 May 9.